With the pharmacy drawer system you can achieve significantly increase your pharmacy storage capacity within a smaller area than traditional systems. Reasons you may be considering the system include:
A more open, customer-friendly design of your pharmacy.
An expansion of your product range and services.
A separate consulting area.
Greater order and tidiness.
Improved work processes.
With our pharmacy drawer system you save time, gain space and thus increase efficiency in your pharmacy.
PLANNING
The number of drawer bays, total drawers per bay and depth of each drawer are worked out from the dimensions of the space available. Given the Height, Width and Depth of the installation area our designers can accurately work out the best configuration to utilise the space as effectively as possible. Other factors when planning out the sytem include storage of bulkier items, most commonly dispensed items, accessability to higher drawers, extention of drawers within the working area's etc.
DRAWER DIMENSIONS
FZ_1200TFZ_1100TFZ_1000TFZ_900T
Item Code
FPD-03669
FPD-03670
FPD-03671
FPD-03672
Width
410mm
410mm
410mm
410mm
Depth
1,200mm
1,100mm
1,000mm
900mm
DRAWER FEATURES
The drawers provide optimum access quickly, great visibility, maximum utilisation of space when stocking medicines and ergonomically perfect operation. The drawers also have uniform grid and cross dividers as well as label holders for all work areas of the pharmacy.
Practical and hygienic: The wire-mesh base enables the contents of the whole drawer to be seen from below and considerably reduces cleaning effort.
100 mm more usable depth of the drawer: Greater storage capacity, without detriment to the usable height and width, through the inspired swing-in mechanism.
Perfect stability and load capacity of the drawer: Light-weight construction with strutting ribs and pressings as well as dual-wall, single section sides.
High corrosion protection: All cavities have been galvanised by electrolysis.
Outstanding surface protection: Phosphatising and powder coating covers all edges, stops abrasion, prevents dust and provides easy care.
Greatest guiding precision: Specially shaped precision tracks, on both sides of the running surfaces, ensure that the drawers could not be easier to open and self-close.
Optimum adjustment for different package sizes: Cross dividers of heights 70, 105 and 140 mm.
Secure hold: Shaped ribs for cross and grid dividers.
Fastlocating: Labels (in holders) help to find precisely the right package.
Easy access to packages: Flush label holder does not extend above side section. Will not break or catch.
Fast overview: Grid dividers with integrated label holder.
Proverbial silence: Plastic-sheathed steel ball bearing rollers run on powder-coated and not on galvanised parts.
Replace able steel ball bearings: Dust-proof prelubricated encapsulation on both sides.
DRAWER FRONTS
Two types of metal drawer fronts are avaiable in a range of colours.
Click here
for more details.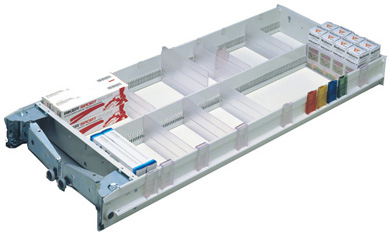 FZ Pharmacy Drawer with Solid Bottom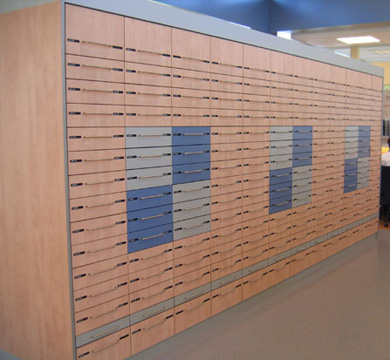 Z Series Full Height Pharmacy Drawers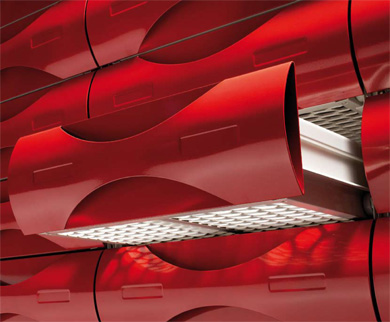 Red Metal Drawer Fronts